Steve McQueen was born on this day (March 24th) in 1930. My favorite thing: "McQueen had an unusual reputation for demanding free items in bulk from studios when agreeing to do a film, such as electric razors, jeans, and other products. It was later found out that McQueen requested these things because he was donating them to the Boy's Republic Reformatory School for Displaced Youth, where he had spent time during his teen years."
ICYMI:  The topic of #SaturdayScool this weekend was Children with Incarcerated Parents. If you're not familiar with #SaturdaySchool, it's a "a weekly hashtag chat about academics and rights-based issues — but it's more than that. It's an idea about protesting misinformation that is funded by corporate media and perpetuated by ignorance. #SaturdaySchool is a weekly digital teach-in intended to cross social media platforms. It doesn't even have to happen on Saturday. A teach-in is a kind of protest that involves boycotting a previous behavior to learn and teach. " hosted by @ProfRagsdale . You can check out the entire discussion  ~here~. As always,  there's a lot of good information to read and discussions to provide food for thought.
7-Eleven worker can keep job after offering free coffee to homeless man http://t.co/oi0lJZqnjE
Amazed what shop owners and managers will do over a cup of coffee. At least he didn't call the police. That homeless man might be dead now.
Why Liberal Academics and Ivory Tower Radicals Make Poor Revolutionaries : Every bit of this had me raising my fist and shouting,"Hell,YES!" . I'm probably just projecting my current frustrations not just with liberal academia but with liberal organizations whose purpose is to advocate for poor and marginalized people but they seem to have little regard for the actual communities they are "working" for.
"Liberal academics and social scientists need to understand their effect on the communities and people they study. Oppressed people who are put under the magnifying glass of academic research have to live with real consequences after the researcher leaves. This is especially true in the field of women's and ethnic studies — where class, gender, and race consciousness are a part of the research process. Researchers leave behind a stranded community with little to no resources to help them organize movements that will create real change."

Apartment complex for low-income LGBT seniors opens in Philadelphia – ""If we don't take care of our LGBT seniors, we're not taking care of our community," says Segal, who believes the housing development should be a national model, "and that's what real community is about."
LGBT people have a greater poverty risk. This is why this is important.
via a-little-bi-furious.tumblr.com
The need for food banks is increasing in wealthier communities [link ]. Things really are that bad all over.
A quarter of Mississippi residents say they don't have enough money for food: http://www.gallup.com/poll/167774/mississippians-struggles-afford-food-continue-2013.aspx …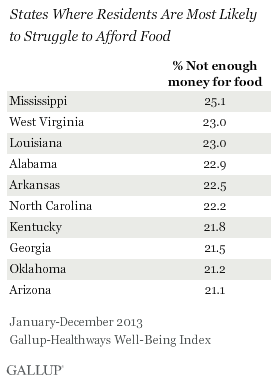 Trying some new things out here at the blog…. cutting back from Facebook posting. There is so much information out there I could post daily but we'd be annoying the hell out of the page followers with all those posts. This will also  make it much easier to find content (there's a search bar at the righthand side of the page and also easy to categorize & tag) and anyway, I'm a Blogger,not a Facebooker, right?
We'll see how this goes.