[contents: racial discrimination,class warfare, politicians who should be in prison, Indigenous issues, settler colonialism,good people donating water]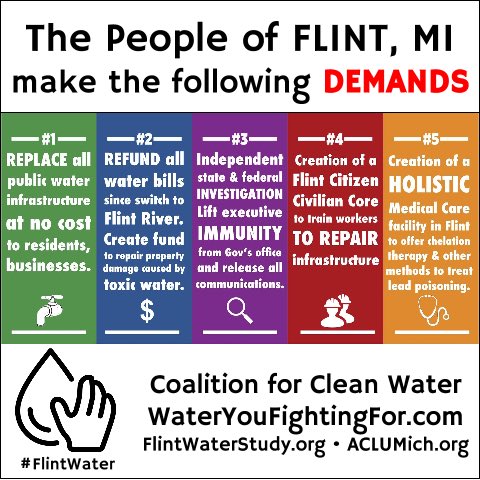 Just so we're clear on this…. Report: Rick Snyder knew that Flint's new water source was poisoned with lead
Annnnnnd …. Confirmed: Snyder's 501c5 fund is footing teh bill for PR firms in Flint crisis detne.ws/1Vp2McU
A Question of Environmental Racism in Flint nyti.ms/1P9rfmd – Environmental racism is the disproportionate exposure of racial minorities(not only Black) to polluted air,water,soil. While class warfare is at work here, the overlapping of racial factors cannot be ignored. Labeling the crisis as a class issue doesn't cover it.
via Justice for All 
Aretha Franklin Donates Hotel Rooms and Meals to Victims of Flint Water Crisis -she's just one celeb who has stepped up to contribute
Undocumented immigrants in

#

Flint

shouldn't be denied free water ow.ly/XwcwQ – they're being asked for ID (which of course they might not even have and if they do, it wouldn't be "valid" ).

Flint schoolkids will get 6.5 million bottles of water from Coca-Cola and Pepsi mashable.com/2016/01/26/coc…

And via Mitch Albom: " Many thanks to

@

absopure

who is donating another semi truck of water to Flint Food Bank in partnership with

@

mitchalbomshow

by Friday"

But Flint isn't the only city showing high concentrations of lead… BridgeInteractive map: Places with higher lead rates than Flint – Bridge Michigan
The

#

FlintWaterCrisis

is Not just a Black Issue it is also an Indigenous Issue wp.me/p22r55-iB …to be honest,this is a must read. Flint is occupied land technically. Settler colonialism and it's far reaching impact makes it even harder to make Flint a Black issue as opposed to a class issue. Solidarity depends on realizing that multiple groups can be oppressed at once by the same system.
EPA sent Navajos poisoned water after Animas gold mine river spill | the narcosphere  this is old but it explains the Gold King Mine incident from last summer.