Current news and developments happening in Flint this week. Check out last week's link round up here.
Let me preface this collection of links by giving a little personal background that fuels my outrage. My youngest daughter had lead poisoning when she was small. Her lead levels were very high but were discovered through a routine lead screening at her well visit. The very next day after receiving the results, the health department was contacted by our pediatrician and the process began to find out where the lead was coming from and how to fix the problem (and the landlord was told succinctly that if he didn't fix the problem immediately, he wouldn't like the consequences). A county health nurse came to our house to set up a treatment plan. Developmental assessments were scheduled. I already had concerns over developmental delays and there in the lead screening was my answer.
Through this process, no one tried to hide the lead contamination from me. It wasn't brushed off as something I would have to put up with. No one ever told me it was "just a few IQ points…. it's not the end of the world." The response was rapid. The concern was genuine. This is how it should be for everyone. Lead poisoning causes brain damage, for fucks sake. Brain damage. The longer undetected and untreated, the more profound.
I don't even want to think about what life would be like for my daughter today if this had happened during the years we had no insurance and totally skipped well visits because we couldn't afford to go.
I think about the impact lead poisoning had on my family when just ONE child had it. In Flint, it's an entire generation that will be affected, especially if the proper plan of action is not set up to handle services children and families will need and what the school system will need to deal with ongoing issues. How this is handled from here on out is crucial.  At the time this happened to us, we were financially stable. We had health insurance and money to buy food. The course of treatment to lower lead levels is nutritional. We fed her a diet high in calcium, vitamin C, and iron. He lead levels dropped to normal within a year. We could afford to specialize her diet like that  at that time. 40% of Flint is "poverty level", which doesn't mean only 40% are struggling. That just means 40% is at or below federal poverty level statistically. I'm betting more are struggling to get food in the fridge than that 40%. Food, period. Even if treatment is in supplement form and not actual food, that's still expensive for people struggling. Is Michigan going to expand a food program to Flint residents to meet these needs?
I have seen some commentary that completely writes off the children of Flint. People are already making predictions as to what percentage of these kids will grow up to be incarcerated or mentally disabled.   My daughter is almost 15. She has no serious detriments now from the lead poisoning. That's completely due to the fast response and intervention with services that followed.  Don't write these kids off. MAKE FLINT & MICHIGAN ACCOUNTABLE. Not just for fixing the water. Push the city and state to get intensive services to families NOW. 
Intersection Episode 14: Fighting for Black Lives, in Flint and Beyond – The 1st part of this episode focuses on Flint and for anyone who needs a refresher on what's goi go, Jamil Smith summarizes how this started and where we are now. Discussed is the role this crisis is playing on current presidential race and what the candidates are saying. It's mentioned that Hillary Clinton has responded voluntarily but honestly,folks…Hillary has political advisors who told her it would be a great idea to say something and involve herself. At the end of the link is a good reading list.
FBI joins Flint drinking water investigation. List of agencies on case that investigate criminal wrongdoing grows. freep.com/story/news/loc…  . I don't know what that means. Do FBI investigations ever lead to arrests?

GUEST POST: "No Words" – A heartbreaking report from the trenches in the #FlintWaterCrisis By Eclectablog on… fb.me/4xZBfeEfj – "Across the street we go and knock, knock, knock. A young mother of four races out to greet us in her driveway. "Oh, my god, I'm so glad to see you guys, I just had a baby 3 weeks ago and I've been drinking water from the tap my whole pregnancy. I don't have a car because someone stole the ignition out of it. I have some water for the formula but I have to wash his bottles with the tap water." We give her a filter, a test kit, and extra jugs, breaking the rules of how much water we can deliver to each house. My heart breaks. I work with infants, I know the effects of neurotoxins during pregnancy. This baby likely has had massive lead exposure that is yet to be discovered. This mom may have known the risks but HAD NO CHOICE but to use her only source of water for the last 9 months."

 Do Not Send Us Bottles Of Water. Instead, Join Us In A Revolt.– really,really important
It's not just Flint and it's not just in the water: Baltimore warns that children are at risk of lead poisoning from paint gu.com/p/4g9k4/stw
It's not just clean water: Flint's undocumented immigrants can't access medical lead testing grist.org/cities/its-not…
The cost of replacing Flint's lead water-service lines could cost as much as $1.5 billion. mobile.nytimes.com/2016/01/28/us/…
I Grew Up in Flint. Here's Why Governor Snyder Must Resig via @

TalkPoverty

talkpoverty.org/2016/01/27/fli…

300 Union Plumbers Took To Flint And Installed Water Filters FOR FREE Over The Weekend http://urbanintellectuals.com/2016/02/02/know-300-union-plumbers-took-flint-installed-water-filters-free-weekend/ … via @urbanintellects

via Niraj Warikoo : "

Just saw 6 cars with water from Jewish community pull up to Latino church in Flint to help undocumented get water: pic.twitter.com/JlSB7oRXcx"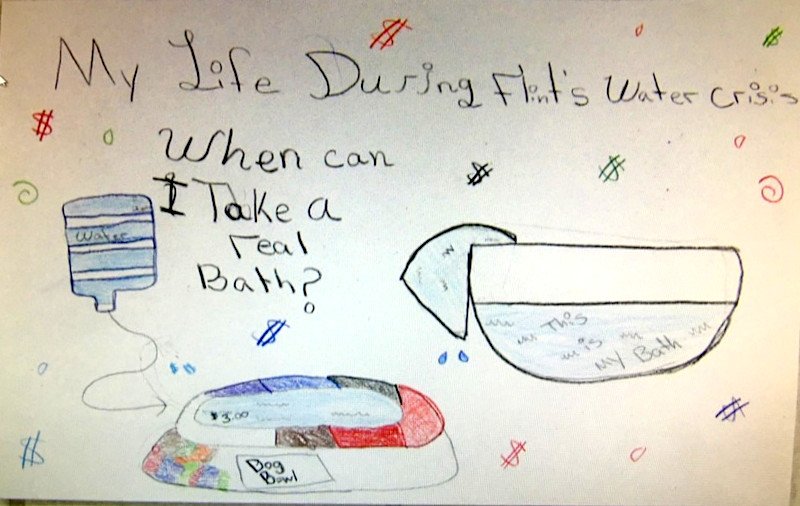 Heart-tugging daily reality from Flint schoolkids, via @Local4News.
---
If you like the work I do here at Poor as Folk, please consider being a supporter at Patreon! Your support will keep content on the blog free and available to all on the internet as well as help me develop printed publications.  Donate here:  Poor as Folk on Patreon
---